Floor Cleaning in Elon, North Carolina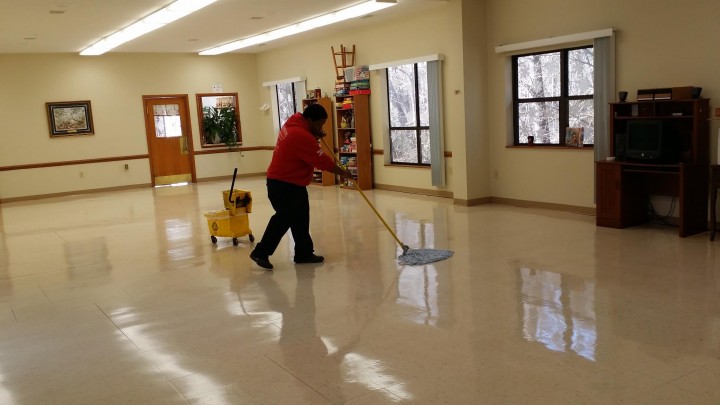 Whether wood, tile or stone, floor cleaning in Elon, North Carolina is a cinch when you choose Superior Janitorial Service, LLC as your commercial floor cleaning company. We've been maintaining commercial flooring in Elon for years. Lead by an experienced supervisor, our floor cleaning crews are thorough and dependable.
We have experience cleaning a variety of Elon floor types including:
Wood Floors
Tile Floors
Stone Floors
Marble Floors
VCT Floors
Linoleum Floors
Terrazzo Floors
and more!
Call Superior Janitorial Service, LLC for a floor cleaning estimate and we will have your Elon floors clean and looking new again!
What's more, we can set up an economical floor maintenance program that will keep your Elon floors shining year round! Regular floor maintenance will not only keep your floors beautiful, but will allow for easy cleaning and protection of your flooring investment.
---
Call for a Commercial Cleaning Consultation
---
WHAT CUSTOMERS ARE SAYING:
5★★★★★ - "Walter and his team at Superior exceeded our expectations! Our office and floors have never looked so good. We'd recommend them for all you janitorial and floor cleaning needs."

Nikki in Greensboro, NC

2018-07-31

5★★★★★ - "We had out carpets and floors cleaned. They did a great job I have already recommend them to a family member . Great job !!!"

Patrica George

2014-09-04

5★★★★★ - "Great customer service!"

Norman Lewis

2014-09-04

5★★★★★ - "Awesome experience and great service. Will definitely do business with Superior Janitorial Service again!!"

Andrea Weatherhead

2014-09-04

5★★★★★ - "They were very professional and thorough."

Leila in Greensboro, NC

2020-05-18

5★★★★★ - "Walter is a true professional! Superior Janitorial arrived on time, very courteous and knowledgeable. He cleaned my carpets well as new and price were more than fair. I will definitely use this company again and I highly recommend!!"

Ascend Door, Carpet Cleaning in Greensboro, NC

2020-02-07

5★★★★★ - "The building looks and smells fantastic! You and your crew did a great job. I don't think it's been this clean in 4 years!! Thanks so much!"

Jamie M., Commercial Cleaning in Greensboro, NC

2019-12-04

5★★★★★ - "The service was fast and cleaned in 30 minutes. Spots I thought would never come out were removed. A fresh clean scent was left behind that refreshed the entire house."

Shawn E in Winston Salem, NC

2019-10-28

5★★★★★ - "Great customer service and prices."

Rosalind Evans

2019-09-16

5★★★★★ - "As always, Walter was very friendly, personable, thorough and professional. Prices are very reasonable as well."

Anonymous

2019-09-12

5★★★★★ - "My Store never looked so good!! Thank you, Walter & David!! Y'all know what you're doing!!"

Chris J., Commercial Cleaning in Asheboro, NC

2019-09-04

5★★★★★ - "Walter and his crew do a great job and are very friendly. I would highly recommend using thw, for your cleaning needs because I have used them several times and they always do a great job."

Ken S., Cleaning Service in Winston Salem, NC

2019-06-05

5★★★★★ - "Fantastic in every way! Good communication, friendly and hard-working staff and job completed as promised."

Amanda Dillard in Randleman, NC

2019-04-02

5★★★★★ - "The technician communicated over the phone well, was prompt in communicating on the day of the appointment and the carpet looks great."

Kate H in Oak Ridge, NC

2019-01-10

5★★★★★

Ed in Mc Leansville, NC

2018-11-19

5★★★★★

Saundra Garner

2018-08-20

5★★★★★ - "AWESOME!!! I HAVE USED SUPERIOR JANITORIAL SERVICE BEFORE THAT'S WHY I CALLED THEM BACK. THEY WERE AWESOME. MR. WALTER WAS VERY PROFESSIONAL. HE EXPLAINED EVERYTHING AND TOOK HIS TIME. I HIGHLY RECOMMEND THIS COMPANY. JOB WELL DONE."

Anonymous, Janitorial Services

2018-08-20

5★★★★★ - "Had some fecal stains on a carpet. Walter and crew showed up on time and quickly cleaned the area. Beautiful!!!"

Anonymous, Carpet Cleaning

2018-08-16

5★★★★★ - "Great job!!!!"

Joanna in Greensboro, NC

2018-08-14

5★★★★★ - "I can't believe how Superior Janitorial Service came in on time and did their thing. My carpets look amazing, Oh and the deodorizer was over the top.....Thumbs up for this company, will be using them from now on."

Anonymous, Carpet Cleaning

2018-08-14

5★★★★★ - "Mr. Stinson is very professional and knowledgeable about the work."

Mr. Z.A. Dawkins in High Point, NC

2018-08-13

5★★★★★ - "Awesome!! Love Walter and his crew always professional and on time!"

Anonymous

2018-08-13

5★★★★★ - "SJS service is always GREAT. Walker has never let me down."

Anonymous in Mc Leansville, NC

2018-08-09

4★★★★☆ - "I like the work that was done. My carpet looks fresh and clean. And the best thing was Walter was prompt and pleasant and it only took an hour. I recommend this company to everyone"

Janice

2018-07-30

5★★★★★ - "Excellent, prompt, knowledgable, and courteous service"

Anonymous

2018-05-24

5★★★★★

Lauren, Commercial Cleaning in Greensboro, NC

2018-04-13

5★★★★★ - "EVERYTHING LOOKS GREAT AND WALTER AND HIS CREW ARE ALWAYS VERY FRIENDLY. THEY ALWAYS DO A GREAT JOB."

ken saunders in Winston Salem, NC

2018-04-11

5★★★★★ - "Walton was very honest, thoughtful and his prices are great. I work with a lot of vendors in different states and Walton has refreshing customer service."

Nia in Greensboro, NC

2018-03-28

5★★★★★ - "Extratrodinary Experience!!! They arrived on time, Got it Done very smoothly......We are very Happy!!
Will be calling Superior again.
Thank You"

Nahjae in Kernersville, NC

2018-03-28

5★★★★★ - "My carpet was just dirty, and unexplainable spots I tried over and over to get out. The most annoying spot of them all was two black dark circles that seemed to appear out of nowhere. I explained that I thought it was trapped mold forming underneath carpet from a previous flood incident; therefore, I need some relief because the normal over the counter products just wasn't cutting it. I felt professional help was my last solution, I'm glad they were able to help me and my OCD out!!!... LOL"

Juanita Buchannon in Greensboro, NC

2018-01-17

5★★★★★ - "Walter, thanks for the great job. It's so clean it looks like a brand new carpet."

Bob, Carpet Cleaning in Greensboro, NC

5★★★★★ - "I thought my carpet was beyond hope! Superior Janitorial did an awesome job for a very reasonable price! I'd refer them to anyone!"

Gwendolyn J., Carpet Cleaning in Greensboro, NC

5★★★★★ - "I just want to personally thank you for the service you provided at my home. My carpets look almost brand spankin new and I've been telling everyone they should call you and get their homes cleaned for the spring. Thank you again for your excellent service!"

Robin, Carpet Cleaning in Chapel Hill, NC

5★★★★★ - "Friendly, reliable and expert! Everything glows when Walter is done!!"

Karen N. in Oak Ridge, NC

5★★★★★ - "I have used Superior Janitorial for carpet cleaning for years. Walter and his staff never disappoint. He is always on time and the service is always professional and done with excellence. I highly recommend Superior Janitorial service."

Richele Wilkins in Greensboro, NC

5★★★★★ - "On time. Excellent job on carpets. Hardwoods look brand new a again. Simply AMAZING!!!"

Crystal in Greensboro, NC

5★★★★★ - "I have work with Superior Janitorial for close to 15 years .. whether it's home or business they do not ever disappoint me .. from after disaster with a flood to a juice stain with the kids .. they are true experts .. I highly recommend"

Daymond milam - solutions accounting in Greensboro, NC

5★★★★★ - "Very professional company, showed up ON TIME. Have used this company for years and have recommended it to many of my family members and friends."

Lamont Smith in Greensboro, NC

5★★★★★ - "Mr. Stintson, I have used your services in the past and was very impressed by your professional manner and your teams work ethic. Your work has been the best I've seen since relocating to the area."

Vernicia Graves, Office Cleaning in Greensboro, NC

5★★★★★ - "They are fast and reliable. They restored my 13 yr old Berber carpet. They look great! Call Walter! He loves what he does and will not stop until everything that can be done is completely restored. I will not use anyone else."

Rachel Lindsey

2016-10-17

5★★★★★ - "Fantastic job, thanks for everything! Looking forward to doing business."

Matthew Smith

2016-02-18

5★★★★★ - "The building has never been this clean in the 14 years I have been here. The owner, Walter Stinson Jr, is a professional dedicated to customer satisfaction. Walter and his miracle workers, started their initial heavy duty cleaning on Friday afternoon and until late in the evening. They came back on Saturday for an all day or more cleaning. On Sunday they came and inspected and did some touch ups. On Monday, it looked like a new building. All the employees were amazed. Walter had the windows rewashed because he was not satisfied with the way they looked. Walter returned everyday last week to inspect and make adjustments if necessary. All the employees stopped him to express their appreciation of the job he and his crew had done on our building. Going forward, we are using Superior Janitorial Service Inc as our weekly cleaner."

Sarah London in Reidsville, NC

2015-10-01

5★★★★★ - "The name says it all Superior! They do a wonderful job. There have been occasions when I have called the owner Walter with small jobs outside of the normal responsibilities, and he has always been there to help. They pride themselves on customer service and it shows! Walter calls routinely to follow up to make sure we are satisfied with the service. They strive to meet there client's needs and if the client is not happy, they want to know."

Julia A. in Whitsett, NC

2015-09-02

5★★★★★ - "I am very impressed with Superior, friendly,knowledgeable, professional and the list goes on...not to mention my carpets look great..."

Eugina Jean Jones Mandeville

2015-08-21

5★★★★★ - "The ladies did MAGNIFICENT job last week! Especially the lady with the blonde hair (I forgot he name) her attention to detail did not go unnoticed. Please pass the word along to her!"   Alison Jones with The Daniele Company-General Contractors in Durham, NC"

Anonymous, Janitorial Services in Dalton, NC

2015-05-08

5★★★★★ - "Very professional and provided informational about the products he used. Thank you!!"

Erica Maye

2014-09-25

5★★★★★ - "Very professional and uses state of the art equipment....If you want perfection this is the the best in janitorial service!!!"

Junior Crawford

2014-09-15

5★★★★★ - "I would highly recommend Superior Janitorial! Their attentiveness to details and friendly professionalism is a breath of fresh air. I thoroughly enjoy working with Hazel and Walter! A definite A+!"

Brandy K.

2014-09-04

5★★★★★ - "Superior has a very educated staff. They are uniformed and also professional. I have always enjoyed their services and would recommend Superior to anyone."

Donald Veale

2014-09-04
---
Call for a Commercial Cleaning Consultation
---